Make a delicious dessert with Snickers Bars® and apples. Simply chop the candy up with a food chopper. Peel, core and slice a few apples. Place them in a baking dish and sprinkle the chopped candy bars over the apples. Bake at 350 degrees for 15 minutes. Serve alone or with vanilla ice cream. Yum
Quick & Easy Stuffed Personal Pizza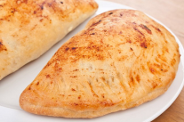 I've done this many times when the 5 of us are all going in different directions. I still want everyone to have a hot and fresh dinner so I tried this. Plus, you can personalize them to everyone's taste! I have also made them ahead of time and p laced them in the refrigerator until they need to be cooked. This was given to me by my friend Betsy and I have used this recipe for years.

Pizza Dough
1 cup of warm water




1 Tbsp (packet) of yeast




2 Tbsp white sugar




1 Tbsp vegetable oi




dash of salt




3 cups of flour



Fillings
1 pkg of Mozzarella Cheese




1 can of Pizza Sauce




Other fillings desired



Mix water and sugar in a bowl, add yeast and dissolve completely. Add oil and salt. Add 1 cup at a time and mix well until forms a firm ball of dough. Split dough into needed portions. Roll out each portion until flat and round and the desired size to contain all of your fillings. Place on an aluminum sheet covered cookie sheet sprayed with non-stick spray. Add desired fillings. Fold over and press a fork around the edges. Brush with an egg wash. Poke a few holes with a fork into the top of your stuffed pizza. Bake at 400 F for 15-20 minutes
This is the best way I have found to finish up left over roasted or soup chicken. This recipe helps out with that dried out or tasteless chicken.
1 package of Fajita seasoning

Left over chicken cut into strips

Bell peppers sliced(red, green, yellow, or orange)

Red onion sliced

1 package of tortillas

Follow directions on the back of the seasoning package. Accompany this with a side dish of rice and a salad, and you have a healthy meal that saves money by using up the left overs so they won't be wastefully thrown out.

Enjoy!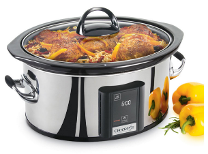 I have not been to successful with my slow cooker until I did this. The trick however is to double the seasoning in your recipes so your dish doesn't taste bland after a long day of cooking.
1 whole frozen chicken*

*make sure the giblets are not in the chicken cavity.

1 lemon pierced with sharp knife

Rosemary

Thyme

Sea Salt or Kosher Salt

Fresh ground pepper
Rinse off frozen chicken and then place into slow cooker. Rub salt and pepper over skin of chicken. Add rosemary and thyme onto chicken. Place pierced lemon into slow cooker. Cover and turn to cooker to low. After about 6 hours, turn cooker to warm until ready to serve.
Hint: I have found that I didn't need to add any water. The chicken will generate it's own juices and when I have added water, it gets too watery and bland.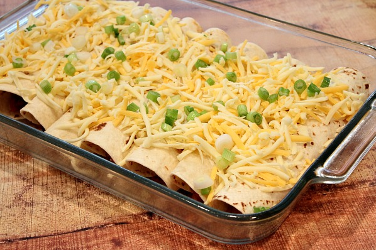 Print Recipe
1 pkg of frozen Burritos (I use the Cederlane ones from Costco-12 in a package)

1 can of Enchilada sauce ( I use Old Elpaso)

1 pkg of shredded cheese-Mexican mix

Preheat oven to 350 degrees.
In a pyrex dish, spray bottom with non-stick spray. (The size of the pyrex dish depends on how large of meal you want to make.)
Pour enough enchilada sauce to just cover the bottom of dish. Line up burritos inside the dish. Pour remaining sauce over burritos. Sprinkle cheese over the sauce.
Spray a sheet of tin foil with non-stick spray, place that side down and cover burritos.
Bake for 35-45 minutes or until completely cooked through. Enjoy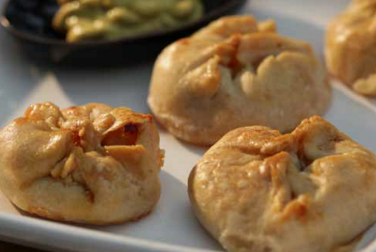 Have left over potatoes? Make these delicious potato knish. This was a great idea given to me by my sister-in-law. She said they are easy and her family, she has young kids, loved them.
Any left over potatoes




Margerine




Salt




Puff Pastery



Thaw puff pastry. Preheat oven t 400F. Scrape out the center of the potatoes and mash up. Add margarine and salt to taste.
Cut puff pastry into squares at the size desired. Place a spoonful of the mashed potato mixture into center of the square. Fold over and seal all edges of knish. Bake for 15 minutes or until lightly brown.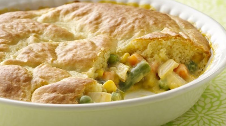 Here's another easy and resourceful way to use up left over chicken. All 3 of my kids loved it and that is saying something!
1 can of Veg-all

1/2 cup of sliced mushrooms (You can use canned mushrooms too.)

1/2 cup diced onion

1/4 cup margarine (non-dairy)

1/3 cup flour

1 cube chicken bouillon dissolved in 2 cups hot water

3/4 cup non-dairy creamer (I used rice milk to keep it all non-dairy and less fat)

1/2 tsp salt

1/4 tsp ground sage

pepper

3 cups cooked and cubed chicken

2 unbacked pie crusts (I used Pepperidge Farm Puff Pastry Sheets.)

Preheat oven to 450 degress.
Thaw puff pastry and place one in pie dish that has been coated with non-stick spray if not using ready made. Keep 2nd one to cover pie.

Saute' mushrooms and onions in margarine until soft. Add flour and combine well. Gradually add bouillon and creamer stirring constantly. Add salt, sage, pepper to taste and continue cooking until mixture is bubbling and turns thick. Stir in chicken and veg-all. Pour into pie crust and place 2nd pie crust as a cover and crimp edges and cut 4 slits in top. Bake for 15 minutes or until lightly browned.
(Can also be made with turkey)
Don't Have an Ingredient - Easy Subsitutions

•Baking powder: For each teaspoon use 1 teaspoon baking soda
plus 1/2 teaspoon cream of tartar.
•Brown sugar: For 1 cup: use 1 cup granulated sugar plus 2 tablespoons molasses or dark corn syrup
.
•Buttermilk: For 1 cup: use 1 tablespoon lemon juice or vinegar plus enough milk to make 1 cup and let stand five minutes, or use 1 cup yogurt.
•Chocolate: For 1 ounce unsweetened chocolate: use 3 tablespoons cocoa + 1 tablespoon butter. For 1 ounce semisweet baking chocolate: use 1 ounce unsweetened plus 1 tablespoon sugar.
•Heavy cream: For 1 cup: use 2/3 cup milk and 1/3 cup butter.
•Eggs: For one large egg: use 1/4 cup cholesterol-free egg product (keep some in the freezer for emergencies like this).
•Egg yolk: For one yolk: use 2 tablespoons cholesterol-free egg product.
•Flour: For 1 cup all-purpose flour: use 1 cup plus 2 tablespoons cake flour.
•Honey: For 1 cup: use 3/4 cup sugar + 1/4 cup liquid.
•Milk: For 1 cup: use 1/2 cup evaporated milk plus 1/2 cup water, or keep dry, powdered milk on hand and mix according to directions.
•Sour cream: For 1 cup: use 1 cup plain yogurt.
•Sugar: For 1 cup granulated: use 3/4 cup maple syrup plus 1/4 teaspoon soda and reduce the liquid by 3 tablespoons, or use 1 cup light brown sugar (packed) or 2 cups powdered sugar.