My One Year Experiment. What's Yours?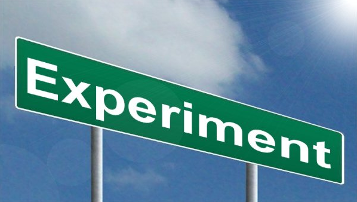 Lately I have been intrigued, listening to all these "money" people on the tips they give to save money. Each one says the amount you could save and it didn't really sound like much. Could a normal everyday person really saving a large amount, combining these ideas? I decided to give myself one year to see how much I could really save my house hold. I didn't change how I cooked. I simply decided to do small changes and to see what happened.
First, I decided to start going to one of those chain stores for (most) of my food instead of the "fancy" grocery store across the street. I still would go to the fancy store to get the products that my family likes that the chain store doesn't carry. I also, decided to try as many of the "house" brands as I could, and to learn which were a good compromise because of cost vs taste, and which ones weren't because it wasn't as healthy as an option or the taste wasn't as good as the "name" brand equivilent. I am setting my goal at $1,500.00
Second, I started clipping coupons and trying the best I could to match what was in the circular that week to what I needed and the coupons I had clipped.
Third, I either downgraded some services in my house, or kept the same service but changed carriers.
One last thing, I tried to plan the menu for the week ahead. I wrote the ingredients that were needed and "shopped" in my pantry first. I then wrote down what the menu list was on my dry erase board on my refrigerator and then I decided what I would make each day from my list depending on how much time I had to prepare the meal once I got home.

Lastly, I only recorded what my household needed, not finding something on sale and buying it on impulse. Only necessitates are listed.
The numbers I have tallied below are either direct from my receipt or what I figured out once I altered my service as written above. See how well I am doing. I have to confess, it is really addicting.
Savings for One Year
1/02/09 Groceries $12.47




1/09/09 Groceries $13.42 $25.89




1/06/09 Groceries $ .10 $25.99




1/16/09 Groceries $54.04 $80.03




1/17/09 Clothing $22.00 $102.03 (Pants for my son. Gosh he is growing!)




1/20/09 Phone $468/yr $570.03 (Omitted 2nd line. We all have Cell Phones)




1/24/09 Clothing $52.00 $622.03 (Daughter needed underwear)




1/30/09 Groceries $9.60 $631.63




2/01/09 Groceries $6.00 $637.63




2/13/09 Groceries $45.81 $683.44 (All time high. Cool!)




2/27/09 Groceries $35.14 $718.58




3/07/09 Groceries $40.95 $759.53




3/20/09 Groceries $49.00 $808.53




3/20/09 Clothing $11.20 $819.73 (Replacing some really old excercize items)




3/27/09 Groceries $26.46 $846.19




3/31/09 Clothing $21.85 $868.04(Found a 30% coupon for clothes for my growing son!)




4/1/09 Clothing $10.60 $878.64 ($10 off $50 coupon found on line for raincoat for my son!)




4/1/09 Michaels $23.72 $902.36




(Used 40% coupons for my daughters birthday party arts & crafts.)




4/14/09 Groceries $31.90 $934.26




4/25/09 Groceries $60.89 $995.15 (Wow, I can't believe how much I saved!)



5/08/09 Groceries $36.99 $1,032.14 (Yeah! Broke $1,000)

5/08/09 Garbage $22.48 $1,054.62 (Changed Trash carriers. Small but it's adding up.)

5/10/09 Printer $14.10 $1,068.72 (Got cartridge refilled vs buying a new one.)

5/10/09 Boots $48.00 $1,116.72

(My husband is getting in on this. 30% my daughter's hiking boots for camp.)

5/16/09 Groceries $24.93 $1,141.65

5/18/09 Internet $59.70 $1,201.35

(Still keeping my email address but for free. 6 months balance of savings.)


June '09 Ph & TV $375 $1,576.35




change for other property ($25 x 3= $75 plus $50 x 6 = $300)




7/30/09 Groceries $24.09 $1,600.44




8/03/09 Groceries $12.96 $1,613.40




8/11/09 Groceries $38.60 $1,652.00




9/04/09 Groceries $38.53 $1,690.53



9/09/09 Groceries $ 7.29 $1,697.82 Every little bit helps get the that goal.

9/21/09 Groceries $18.96 $1,716.78

9/25/09 Groceries $ 6.27 $1,722.45

10/07/09 Kohl's $ 15.96 $1,738.41

10/11/09 Groceries $ 5.88 $1,744.29

10/18/09 Groceries $30.52 $1,774.81 Only $225.19 to my goal of savings $2000

10/23/09 Groceries $18.81 $1,793.62 Slow and steady wins the race

10/25/09 Drug Store $12.00 $1,805.62 Refilled my printer ink cartridge & not buying new

10/30/09 Groceries $25.74 $1,831.36

11/06/09 Groceries $11.50 $1,842.86

$157.00 to go with 55 days to go. Hope I make it.

11/20/09 Groceries $22.21 $1,865.07 Almost there!

12/01/09 Groceries $ 6.00 $1,871.07 Layered coupons on two items

12/04/09 Groceries $22.99 $ 1,894.06

12/11/09 Groceries $ 9.77 $ 1,903.83

12/18/09 Groceries $21.74 $1,925.57


12/18/09 Sports Store $10.00 $ 1,935.75 Son needed new shoes. Used a 20% Coupon



What did I learn from this experiment?
Well it has been a year since I started my experiment on trying to save money. My original goal was to save $1,500 over the course of a year. I far exceeded that and almost saved $2,000. I learned the following:
I saved around $760 by switching to a more economical grocery store, cutting coupons, matching coupons with in-store specials, and trying store brands. I miss my fancy grocery store, and I went once in a while to get my "fix", however, seeing the savings I was receiving became very addicting. The store brands were enjoyed only about 50% of the time, however, we did find some new favorites to add to our list of foods we do like.
I saved around $275 by using coupons as much as possible when clothing or household goods were needed. This does not include any purchases I found on sale but were impulse items (which really were quite few in number.)
I saved around $880 by switching or downgrading my utilities. I got rid of our second line which was a huge savings. We all have cell phones so it wasn't needed any longer. Also, going with a single carrier for our internet, phone and television was also a large savings.
The savings individually were good, but not impressive. However, combining the effort across the board, the number was more exciting.

Someone asked me, how do you save more when you have done all of this? This year, I will be trying to uncover unique ways to save us all money. Keep visiting to see what comes next.