Parties Thrown
Nicely

But

Inexpensively!
As a mom of three children I have spent a lot of money on their birthday parties. I have hired characters to come to my home. I have bought the party favors through Oriental Trading Company and have had them a various venues. The throwing parties for lots of kids and for that kind of money, it gets over whelming when you have to throw 3 parties a year. Please learn from what I have figured out, it's not the cost of the party, it's what the kids do at the party.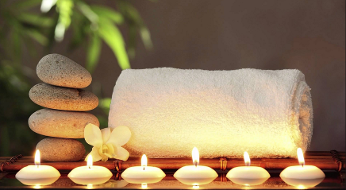 My girlfriend did this clever but inexpensive birthday party for her 3 girls. The best way she saved money was having her friends teenage daughters help out and by purchasing the items she needed at dollar stores, Target, Walmart, and online. A little running around and preplanning went a long way. For the invitations, she created the invitations on her home computer on cute stationary and printed them herself.
She created 6 stations within the "spa"
1. Hair 4. Bracelet making
2. Nails 5. Tattoos
3. Lip gloss making 6. Decorate your own cupcakes
~She had one teenager at each station.~
Decorations
The room was decorated in pink (her girls favorite color), feather boas, and twinkle lights (white Christmas lights that she found on sale after the holiday), and glitter.
The party favors were the head wraps, all the items they made, and lots of pink candy. Her girls and their friends had a great time and it was not a huge drain on her wallet, plus, the older girls love dressing up the younger ones, and the younger girls love getting the attention from the older ones.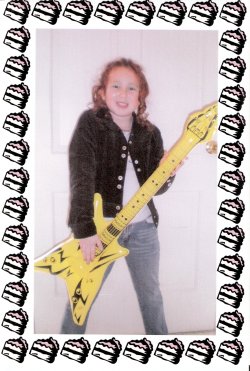 Last year I threw my then (almost) 9 year old a cute party. She had gone to one of these party venues that for $350, 8 little girls could be made up and dolled up in fancy dress up clothes. They would then take a "Fancy" picture and after have cake and ice cream. Well, my daughter wanted that kind of party but wanted the Rock-n-Roll version. I nearly fell off my chair when I was quoted the price. I wanted to give my daughter the party she wanted with out paying that kind of money.
That is where my then 13 year old and her friends came in. I asked if my daughter and her 3 girl friends would want to do the little girls hair, makeup and nails. They were so in to that. I went to the dollar store in my area and bought bright eye shadows, nail polish and blush. I also bought hair extensions, clips and fake poney tails. (I had 8 girls coming to this pary.) I cost me $20 for everybody to have choices on colors and accessories for their hair. I purchased a hair streaker from my local toy store for $15. I bought a little present for each of the girl friends for $10 each. I bought cake supplies and made my own cake.
I also had in my basement, lots of blowup music instruments that we had collected from parties we had gone to throughout the year. I took pictures of all the girls with an instrument and downloaded the pictures on my computer. Placing a border around the pictures, printing them out on photo paper and putting them in plastic frames that I also collected over the years was part of their party favor. The plastic frames only cost about $1 each if you don't have a collection of your own.
Lastly, the kids made a "music video" on our front porch. They had a blast. I uploaded and then burned the CD's for each guest. This took a little time so my daughter had to give these out the next day at school.
The whole party cost me no more then $70. The kids all had fun, even the 13 year olds. They walked away with unique party favors that weren't going to be thrown away. More importantly, my daughter had a great time.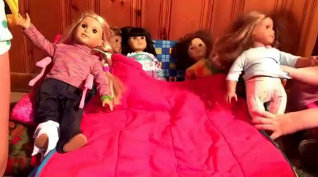 Feeling confident that I could throw a party on the cheap, I was challenged to do it again. This time my (now almost) 10 year old was obsessed with American girl dolls. I would have loved to have taken her to Chicago for the American girl doll tea party, but it wasn't in the budget. So I made my own.
I made my invitations on the computer, copying and pasting a picture of the doll that resembled my daughter. I invited each guest to bring their own doll for a Tea party. A store chain by me gives 40% coupons in the paper. The only bummer is you can only use one coupon at a time at each store. (So plan ahead.) I bought pillow cases that they could color with crayons and that needed to be heat set with an iron. I purchased them for about $4 each. (I had 6 girls this time.) I also found a $1 aisle and I bought more crafts that were fairly easy and not messy for after lunch and before cake.
I went to a food service place and bought disposable china place settings. (I know it's not a very green thing to do, but I will try better next time.) I used my silver tea set that I received as a wedding gift (and have never used until this party) to help set the mood for the Tea party atmosphere. I set the table with an elegant, but washable, table cloth along with the china and Tea set and it looked really pretty.
What to serve was next on my list. I splurged and bought big cookie cutters, a big flower and a big circle. I made sandwiches to order, tuna, egg salad, cheese, and peanut butter and jelly, and used the big flower cookie cutter to make them look pretty. I gave them grapes and chips as sides.
The cake(s) were the best. I made a sheet cake and using the circle cookie cutter, I made (6) 2 layered birthday cakes for each of the guests. They were so cute. A little time consuming but well worth it. Again, my daughter and her girlfriends had a great time, the birthday girl was happy, and her parents were happy with the about the $70 cost of the party.