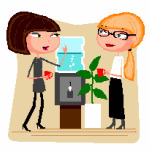 Here's what people are saying about Tidbitz4u!
What people are saying!
Loved your idea for keeping the bread basket warm. It was worth the search for the perfect rocks! Paula B., Ann Arbor, MI
I tried the chick pea recipe on your website and it was delicious and attractive. I am adding it to my entertaining menu repitoire.
I also polished my silver tea set as suggested with tide and warm water. Wow! It is gleaming. Thanks for all your great tips. Joan B., Huntington Woods, MI
I needed to polish my silver. I happened to be on Tidbitz4u and read that I could fill a container with warm water and some powdered Tide. So, I placed my silver pieces in water with the Tide and let them soak…unbelievable it took the tarnish away!!!!!! It was so easy and my silver looked brand new without me having to spend any time at all with polishing." Jennifer M., Bloomfield Hills, MI
I made the mini tortilla bowls. They were easy to make, impressive looking
and delicious. Linda G., Ann Arbor, Mi

I made the Chicken Pot Pie from your dinner suggestions.....AMAZING!! Very easy, my family LOVED it! I did substitute frozen veggies instead of the canned (to avoid too much sodium). Thanks so much!! Jennifer M., Bloomfield Hills.

Polishing your silver in the bath of Tide.....what a wonderful solution..I can't wait to try wearing my high heels all day. Thanks for all the good Tidbitz... Helene C., West Bloomfield, Mi